Before coming for a spray tan, there are things you need to do, to make sure the tan is successful. Many clients blame the therapist, when they have really failed to prepare, and we all know that failing to prepare is preparing to fail. That old saying still holds water nowadays.
Prepare Your Skin
Showering
Don't use oily body wash/shampoo/creams prior to a spray tan. Don't shave your legs within 24 hours of a spray tan, or you might get a patchy result.
Exfoliate
Get rid of those dead skin cells that can leave you with dark spots and patchy skin. For a fabulous tan, get your loofah or exfoliation mitt out and get that skin prepared, preferably the night before, which will prepare your skin pores for the tanning treatment to come. By exfoliating, the spray tan will have a clean skin to work on, which will improve your tan.
What Strength of Solution?
This is a personal choice. Your therapist may try and persuade you not to go too dark a shade if it's your first tan.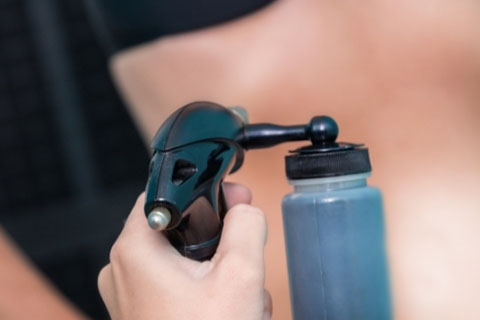 First Tan
Aim for something on the lighter shade of the colours available. Brides may want to use 6% or 8% light solutions for a natural lovely glow. Whichever shade you go for, make sure you are more diligent with preparing your skin with the darker shades, so the wearing off phase looks more natural.
For brides, or special occasions, have a tester spray tan a few weeks before the big day. You don't want to find out you hate the shade of tan if you get sprayed the day before with a new solution/strength.
Darker tans on light/very light skin, can look unrealistic. Olive skins will be able to carry darker shades better.
How Deep To Tan
Your therapist may try to guide you, however client choice is always available. Most therapists will carry a base range, and possibly a rapid tan choice, so that the client can wash off the guide colour in around an hour, and the tan will continue to develop. Very brave people may leave those stronger solutions on on for longer.
Every persons skin is different. Some will take to the solutions better than others. Your therapist may have an idea of what a tan will look like on your skin type, but they cannot predict that 100% for everyone, and can only recommend based on your skin and the look you wish to achieve.
During the spray tan, your skin will change colour instantly. This is not the colour your final tan will be. The guide colour is for your therapist to see where they have sprayed, and identify any bits they might have missed. You should not be soaking wet before putting back on your clothes.
The Shades
Different companies use different methods of determining shades. This is a rough guide, but doesn't cover all brands, who will have their own ways of determining shades, based on their chemistry.
Very Light – in the region of 6-8% DHA. Natural.
Light to Medium – in the region of 10% DHA. Natural
Medium – 12% DHA. Visible difference is skin colour.
Medium to Deep – 14-16% DHA. Experienced tanners, deep tan.
Very Deep – 18% – Not for novices. Experienced tanners.
Rapid Tan – 18-20% DHA
On The Day
Fresh Skin
No make-up, lotions, perfumes, moisturisers, oils, deodorants, body sprays etc etc.
Clothes
Wear loose clothes, preferably dark in colour as some colour may transfer from your skin to the clothes. While many fabrics will shed the colour during washing, not all will, so wear clothes that you don't mind getting a little colour on.
What To Wear
For the tan, wear old bikini bottoms or underwear that you don't mind getting tan on it. Therapists sometimes provide paper underwear, but it doesn't hide anything, and won't follow the lines of clothes you normally wear. Spare yourself heartache and bring some old dark clothes to get tanned in.
Jewellery
Remove your jewellery or that will show as a white line.
Feet
Pop some sticky feet on the soles of your feet, or if you can't use them, your therapist will give you some towels or couch roll to stand on, and swivel, so that the soles of your feet are protected from solution.
Barrier Cream
Barrier cream will likely be applied to your ankles, toes, toenails, fingernails, elbows and knees. Your therapist may do this, or you might be given the cream and instructed on how to apply it yourself. These are high skin cell shed areas, which tend to react differently to tanning solution.
Hair Net
Your therapist will put on a hair net for you, and ensure it is at a level on your head that means there is no visible tan line at your scalp. The hair net protects your hair from tan solution, and keeps your hair away from areas to be tanned, but it needs to be placed properly, or there will be a tan line. Your ears must not be covered, and it must not sit on your forehead.
There may be pictures in the room, to help you with the different positions to move into, so the therapist can tan your properly.
Panic
If you really hate the tan, and it isn't a deep tan solution or rapid tan, you can usually go straight home and wash it off, as tan takes time to develop.