Almost all new businesses seem to find a way to accept cards these days, and that includes beauty therapists, whether they're mobile, renting a room, or own a whole business.
It's not enough to simply accept cash.  As a consumer, I know how rarely I take money out of the bank, so in all fairness, I'm unlikely to be able to pay for anything  much without paying by card somehow.
The problem with the big card machine providers and their merchant accounts, is the price, and being required to obtain a merchant account.  On top of monthly fees, you can often be charged the  processing fee, although those charges may suit you if you like taking payments over the phone.  It is worth investigating, to ensure you find the best payment solution for you.
Today, I'm looking at the iZettle.
It's great for small and growing businesses, and especially for sole traders and mobile therapists.
I'm not surprised that this little gadget is doing well.  Deposits to your bank happen after just a few business banking days, and you can take payments anywhere your phone can get signal or wifi.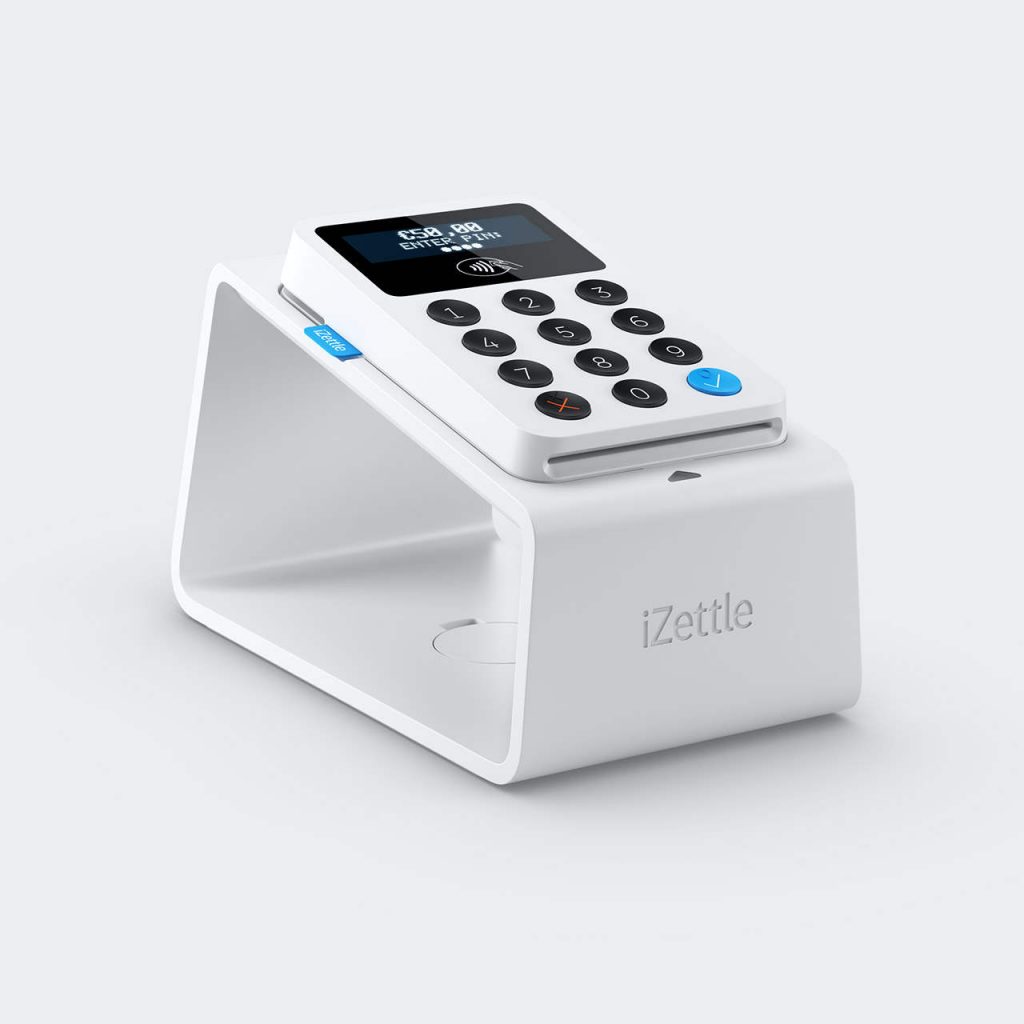 iZettle Credit Card Machine Features
Small and easy to set up.
Receipts detailing individual purchases, which regular chip and pin machines don't provide.
E-mail and/or text receipts to customer.
Connects quickly to a phone.
Takes contactless payments.
Takes Apple pay and Samsung pay.
Rates start at 1.75% per transaction and 2.5% for invoicing.  That's nothing to sniff at.
Does NOT need a merchant account.
Can use for business and for personal use.  Sole traders should sign up for a business account.
No set up fees and no monthly payment.
Works via the iZettle app, connecting quickly via bluetooth to your phone or tablet.  Can use the app for a full product list, which will be broken down on the receipt, or just for a simple price total.
Charges by the USB cable, or a separate dock if you have one.
Battery lasts a good length of time, if you remember to switch off the reader when not in use.
Price to Buy
There is no rental term on the iZettle, so it is a purchase outright to own gadget.  Some of the readers are older versions, so make sure you get one that is compatible with your own systems.
There are two options when it comes to paying the fees.
Go
No monthly fee.
Perfect for those new to the system, 1.75% transaction fees, with 2.5% for invoicing.
E-mail and phone support Mon-Fri 9am-5pm.
Go Plus
£20 Month.
Sales reports broken down into different staff members where needed.
Increased support, with week nights and weekends.  Mon-Fri 8am-8pm.  Sat/Sun 9am-6pm.
iZettle reader lifetime warranty.
Try free for 30 days.
Accessories
You can buy additional accessories for your iZettle.  If you just have the reader, you can buy a dock, cash drawer, POS system and even a printer for receipts if your clients prefer a printed receipt to an e-mailed or texted one.
What do I think?
I think these are a great wee solution to getting a toe in the card reader machine market.  They're a cost-effective solution for small businesses and sole traders starting up.  I think it's definitely worth a look for everyone setting up or owning a small business.  Just do your due diligence and ensure you know what the rates and costs are for each payment processing system, before you buy.
My favourite function, apart from the start up percentage rate, is the ability to add individual products and have those on the receipt.  That's a great thing to have.
I like the option to add an image to the receipts, which helps with our branding, and there's a great option to add customers e-mails where they agree, to help with future marketing.
The library function for different products allows for different variants with different prices, which allows for speedy itemised receipts for your customers, but there is also a quick function, so we can just add a pounds and pence amount and sent it straight to the card reader.  A percentage or figure based discount option is also very nice indeed.
I am not in any way affiliated to iZettle.  This is an independent review and I am in no way responsible for your intended or actual purchase of the system, in any way whatsoever.