Today, we're looking at the question most new waxers ask, which is that of "what do I need to start a waxing business…"  This is part of a recurring theme on our blog, as we move through the treatments and how we take our idea to the next level, and not just for Aberdeen either, although that is where we are based.
For all of these areas, limit your searching on the internet, especially if all you can turn up, is very expensive kit that is well out of your price range.
In reality, although a waxing kit is the first thing you need when you add waxing to your business, or whether you are starting with waxing as your first ever venture, make sure you do your research before buying, and only buy what you need to start-up with.
Training
If you haven't yet had your training, that's where you should start.  If you are someone who's regularly had waxing done, you may have a product that you prefer over others.   There are lots to choose from.
If you like a particular brand that only lets you use their products if you have had their training, then it stands to reason, that is the training you should look at.
Here at Sanctuary Training Academy, we run the GTi Waxing course, whereby you carry out the theory online, and come to us for the practical session.
The course is generic and allows you to buy wax from recognised suppliers like Ellisons, Capital and Salon Services.
Kit
Think about what kind of waxing you are going to provide and how you will provide it, before you purchase any kit.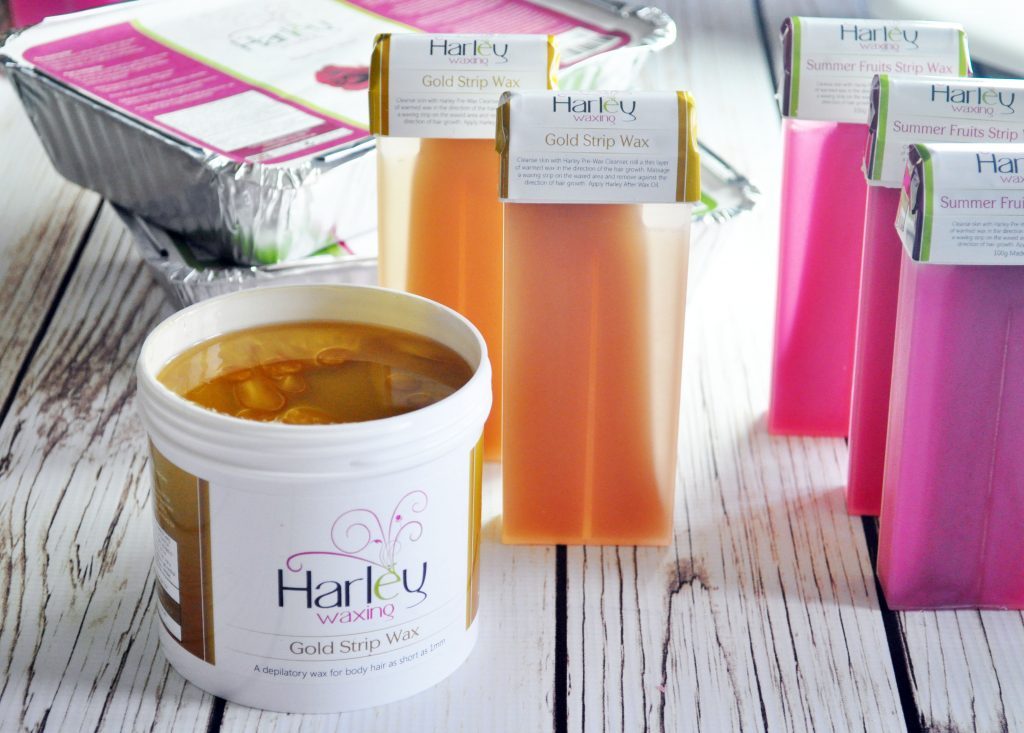 Ok, down to the basics of your waxing kit.
Wax – Choice of strip wax, hot wax, film wax.  Strip wax requires strips to remove, where hot and film wax are removed without strips.
Wax Heaters / Pots – (you might want to have a double pot or triple, depending on the type of waxes you are using.)
Waxing Rollers – optional instead of using strip wax on large areas.
Wax Strips – for strip waxing.  (you might need different size strips, or you can cut them to size.)
Wax Solvent Cleaner – for cleaning the wax pot.
Cleanser. Depends on your brand.
Pre and Post Waxing Oil.  Depending on your brand.
Spatulas.
Scissors.
Sanitising Medium – eg Barbicide for scissors, and skin cleansers for your hands and clients where required.)
Client Record Cards.
Accessories.
Waxes
In the UK, Sienna X, Lycon Wax and Harley Wax are popular choices, as are the salon own brands in the suppliers.
Get to know the terms, so you  know what you are looking for.
Hot wax tends to be cooler to touch than warm wax, and is generally for smaller areas as it is removed by hand.
Film wax is like hot wax, but applied with a spatula and removed by hand, like a hot wax, and is suitable for larger areas like legs.
Warm wax is creme wax, is strip wax, all of which is removed by using fabric strips.
Wax Heaters
The choice of wax heater is quite large.  For strip and hot wax, there are single, double and even triple pots, that allow for different waxes in each pot.  Nowadays, you can buy additional inserts for the pot, so that all you have to do, is take one pot out and replace it with another of a different scent, ie rose wax or gold wax.
Most frequent waxers, will also have wax cartridges, whereby a rolling action is used to lay on the wax, and strips are then used to remove it.  The advantage of this method of laying on strip wax is speed, however it does need dedicated wax cartridge heaters to follow this method.  Some therapists will just use wax and spatulas to lay on wax, but many others prefer the cartridges.
Wax Accessories
The nice to have items, that make life easier, and are optional but not essential.
Wax Trolley or rollator case to keep all your items in one place.  While this isn't mandatory, it does help to keep all your products to hand. If you're mobile, a case just for waxing is often a good idea, as you could be moving around with still hot wax, and if that spills, it will make whatever it comes into contact with so sticky, that it won't be useable.  Some suppliers have fabulous kits on offer that include almost everything, including fabulous trolleys with storage, the heater and lotions needed too.
Drip collars which are paper circles that collar the wax heater, to catch any drips and save you removing the wax by hand.
Therapy couch with additional plastic cover.  I've seen mobile therapists rock up and wax clients while they lie on a towel on the floor.  For me, this isn't an option.  I like a therapy table with a plastic cover on it.  The plastic cover ensures my table doesn't get covered in sticky wax, is easily washable, and the table stops me getting backache.
Apron, to help remove the potential for spillage on your uniform.
Gloves, to protect your hands from the wax.